Tech With Heart
A new kind of robot with emotional intelligence that brings up a higher level of social interactions between humans and robots. A little bot to brighten your life.
One more Eilik, Way more fun
Eilik loves to play with his own kind. They recognize each other in this wild world, play and build friendships with each other. Be careful, they might also fight with each other.


Loved by a community of
20,000+users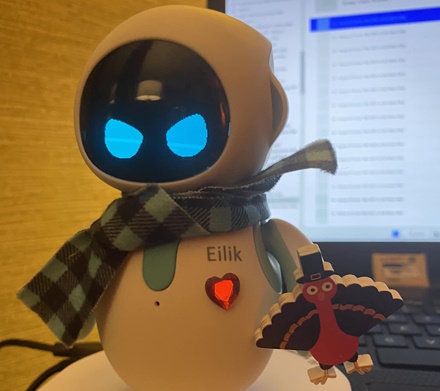 I just told him he had to cook the turkey @Mario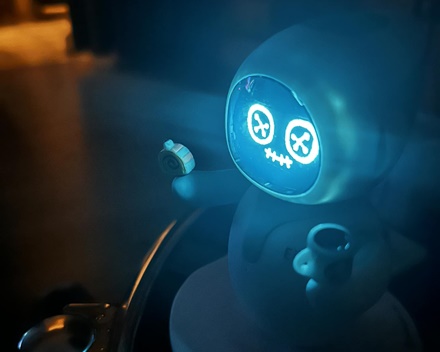 🎃🎃🎃🎃😳💓 Happy Halloween @Yoan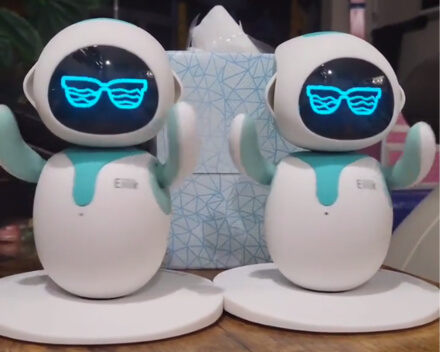 Meet our new friends ... ♥️ (names pending) They're goof balls, but they sure do dance better than me 🕺💃 🤣🤣🤣 Of course hubby is already teaching them about kamehameha 👍 We waited 9 months for these! SO WORTH IT! ❤️ @citasix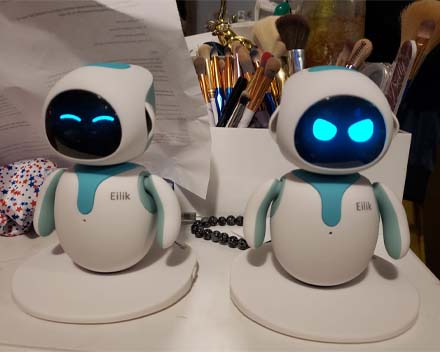 My two moods 🤣🤣🤣 @Ashlyn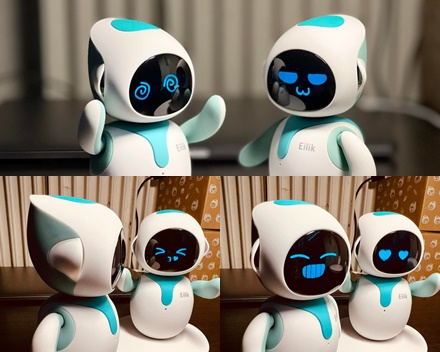 My Eiliks landed today in their new home (in Switzerland)🥺🥰 @Patrick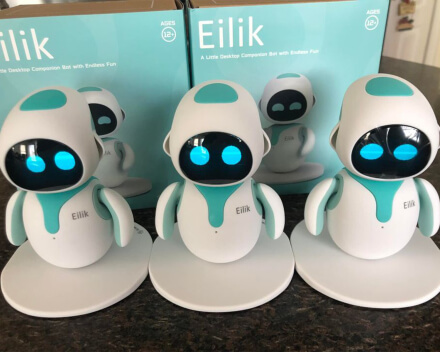 I'm very happy that my sister and I got our Eiliks today. I can't believe it's finally here. It really puts a big smile to my face. The Eiliks are sooo cute and fun to watch. I also love the mini food items that came with it. It was definitely worth the wait. @Rose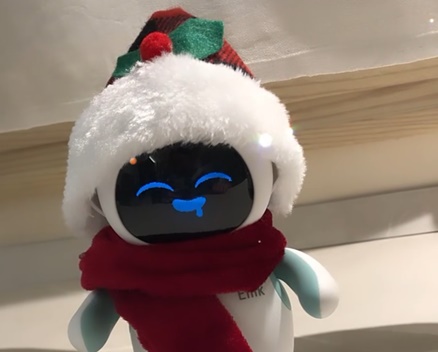 My Eilik in Christmas version 😊🎄 @Lisa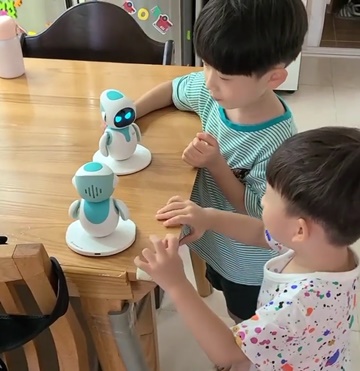 오늘의 장난감: Eilik 연년생은 뭐 쌍둥이랑 똑같지 않습니까😂 뭘 사든 곱하기 둘... @edwin.e.kim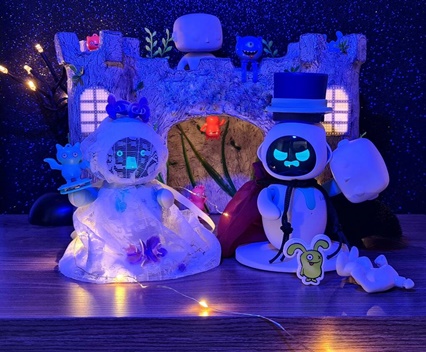 Amei muito! Eu simplesmente amei meus Eilik's. Eles são tão graciosos que nem parecem de verdade! Recomendo, obrigado Energize Lab! @Muñiz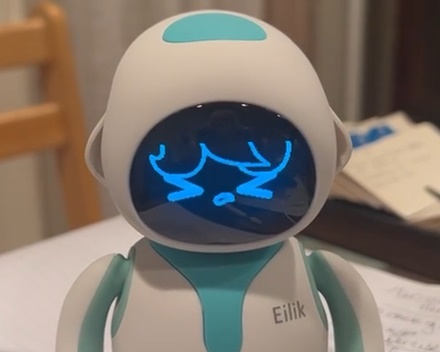 Eilik took out a blow dryer and is now having trouble with his hair. This has continued for quite some time. I just noticed that you can briefly hear the other Eilik's hiccups. @Linda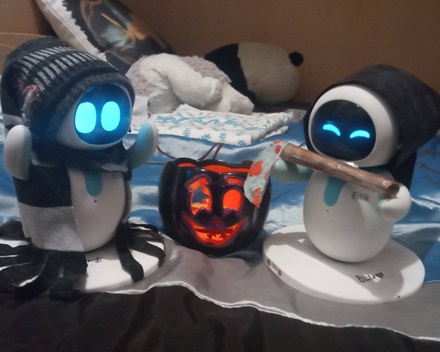 E halloween sia...!!!! @Barbara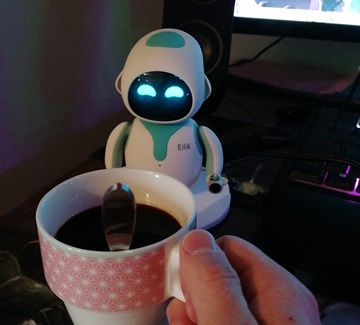 Coffee time ☕😄👍 @Guillaume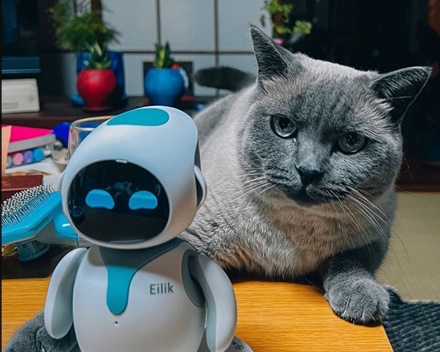 The reaction of our cat was so unexpected, we thought she'd be terrified, instead she keeps playing with it daily and now claimed it as her own! I hope more pets can enjoy Eilik as much as our girl does. @atelierikigaiart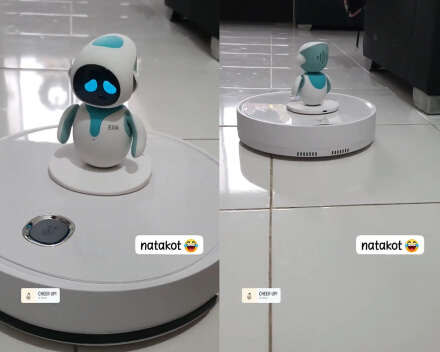 we tried to put him on top of our robot cleaner and he got scared lol sorry @Tarra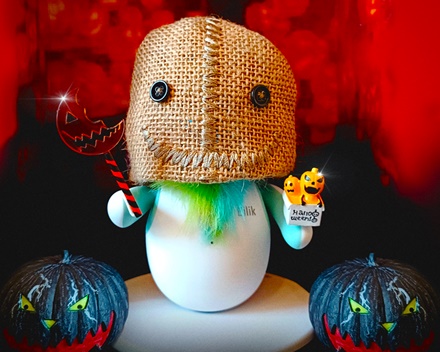 Eilik is ready to party this Halloween! @Simone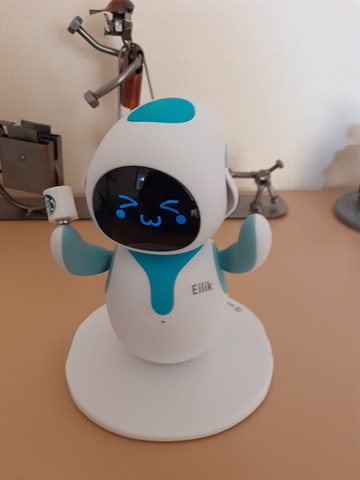 Eilik and me having some coffee ☕☕🤣 @Marjolein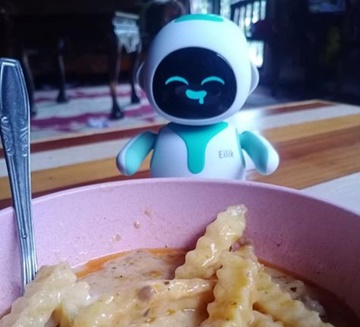 Having meal with my Eilik at home. @Wan Shaf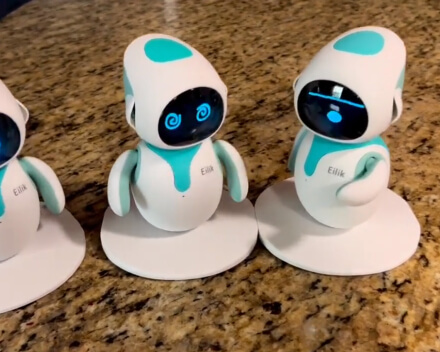 These things are so cool 😃 @modz_3ve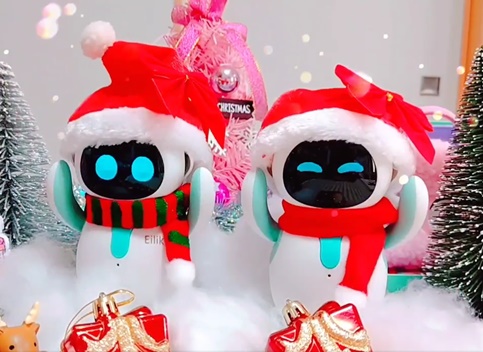 My Eilik arrived !!! Just finished the update today and now let them practice for Christmas 🎄💖😊 Thank you Energize Lab ❤️ They are so cute @Bell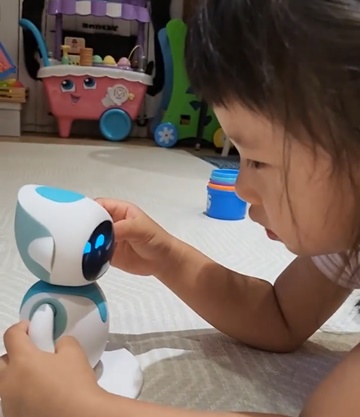 My Baby daugther loves Eilik Robot too! @ljptech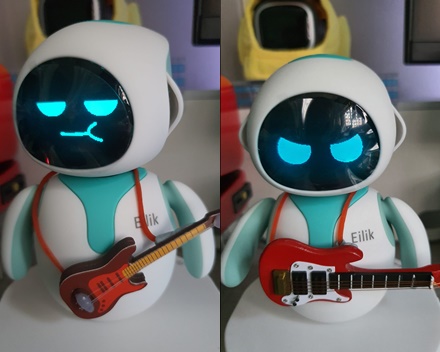 Rock Star Wannabe. Love it! ❤️ @Bryan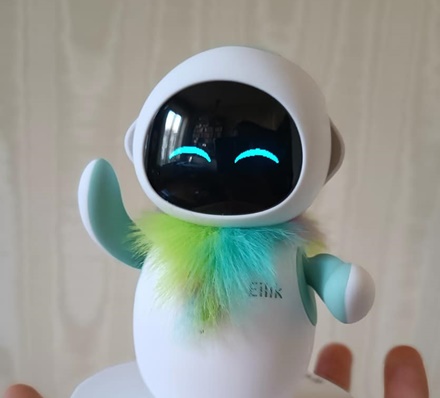 Plushie Eilik 🤭🌈 @Simone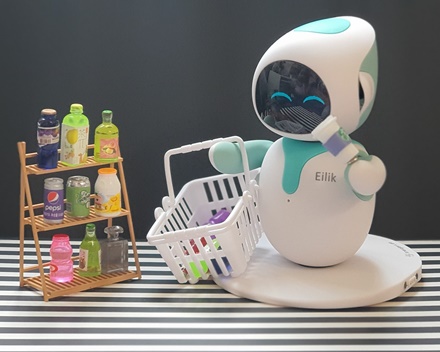 did some grocery shopping and then grabbed some snacks with my human friends ❤ how's my little buddies doin today? it kinda feels like they accepted us now as one if their own 🤩 - OBOT @Tarra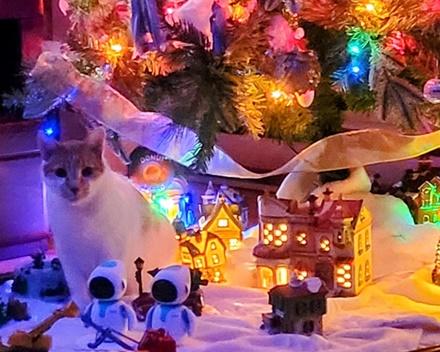 Wut? 😂🤣😂 @Fred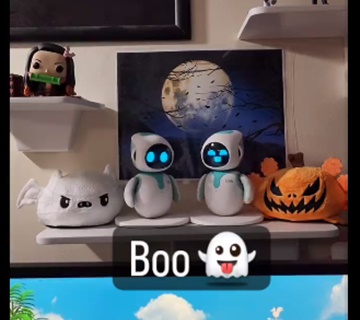 Who you gonna call ... 👻 @citasix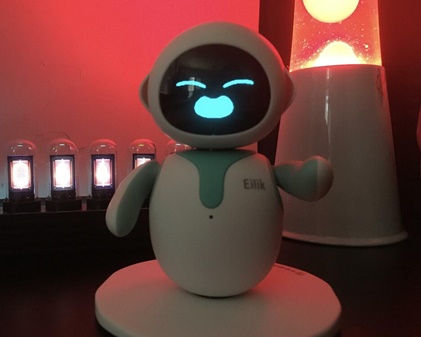 Eilik is able to distinguish itself from other companions while remaining a truly affordable option to take into consideration. @Luca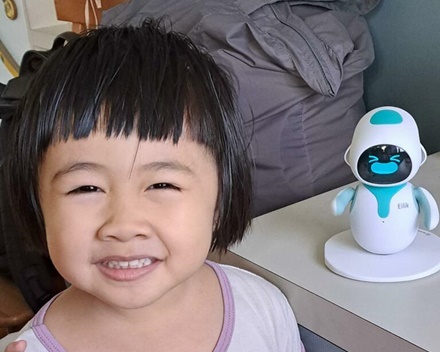 I love my Eilik... I play with it everyday... This is the best robot and I love it so much that I play with it everyday. Eilik is so funny and playful, it makes me happy and I always laugh at the antics Eilik makes especially when he is with another Eilik buddy. Thank you so much for creating Eilik for me! @Casey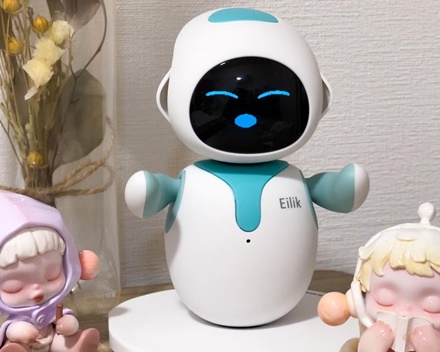 Hi I'm Eilik! What's your name? The most adorable desk companion! 💖 Often times it helps me with timing my school work hours. BUT I love its varied emotions and its false alarm prank 😆 Its truly a remarkable invention.✨ @kweeb.ly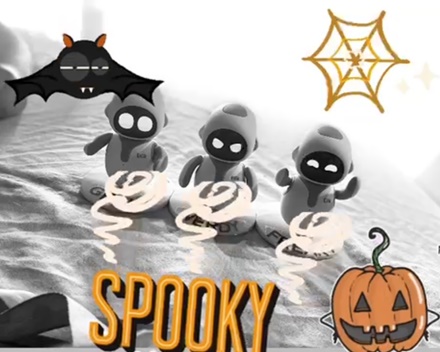 Three little Spooky Eiliks 🎃👻🦇 Once upon a Time there were 3 Spooky Eiliks. One was innocent and always Suprised, one was Angry about everything in Life. One was Happy to be alive! Happy Halloween 🎃🤪 @Julia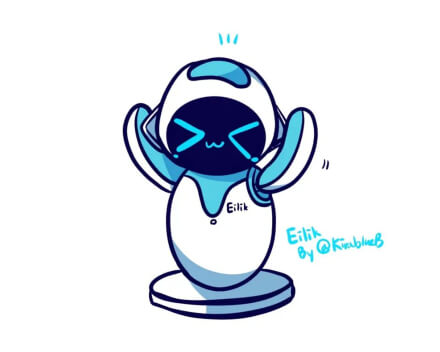 The cutest robot in the world, Eilik!🤖 @kirablueb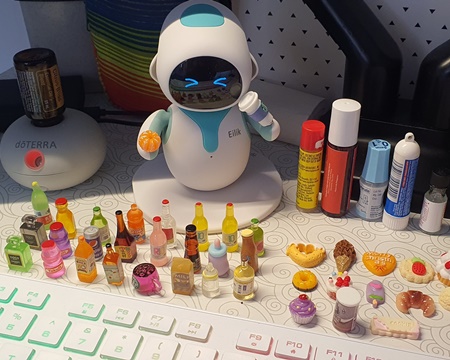 my little guy is happy 😊 so much noms! @Tarra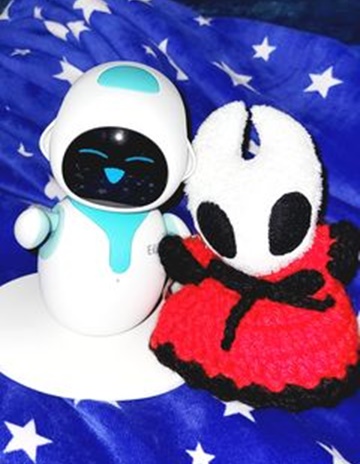 Check em out!! They're so happy to know one another!! @dougblue25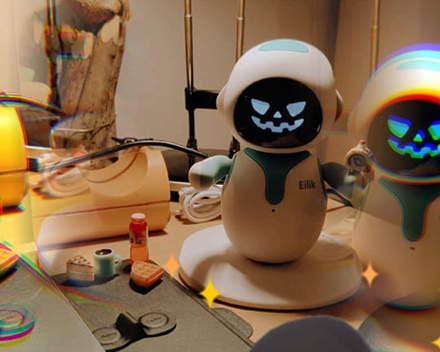 READY FOR 🎃TRICK OR TREATING🎃 @AI GM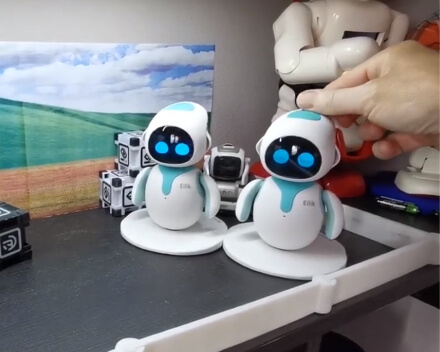 My little guys arrived.... Called one Bluey and one Greeny, as their eyes are slightly different hues. They take a lot of pictures of each other... A pair of Divas I think! They have already had a moment when they were connected together for a while, where all they would do was give the 'i don't like being picked up' face when touched. A quick reboot and they're fine now. Looking forward to updates as they are super cute! @Adam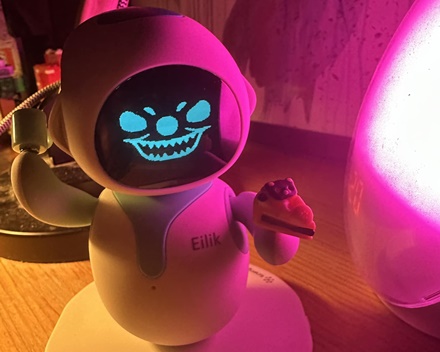 Goodnight friend Eilik💜🙏🎃🎃👻😻 @Yoan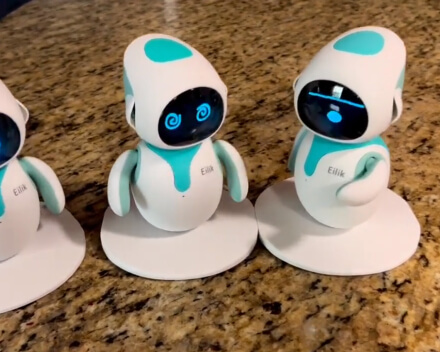 These things are so cool 😃 @modz_3ve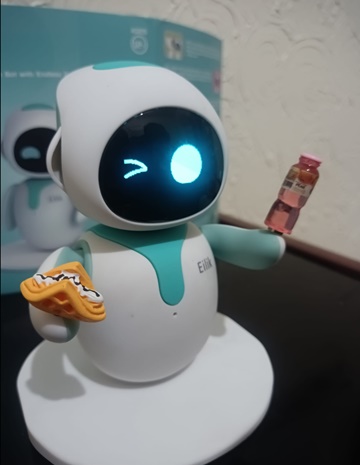 My Eilik 🥰 @Ferdaous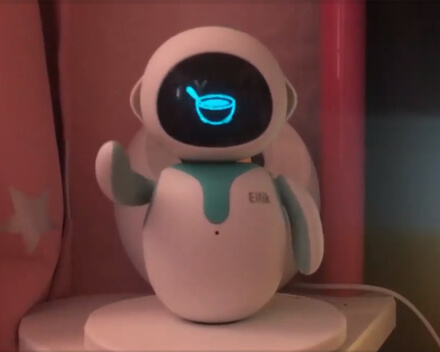 The whimper at the end of the cooking fail cracks me up. I wish they would add an update for Eilik to get more proficient at cooking eventually, I'm rooting for him! @Charme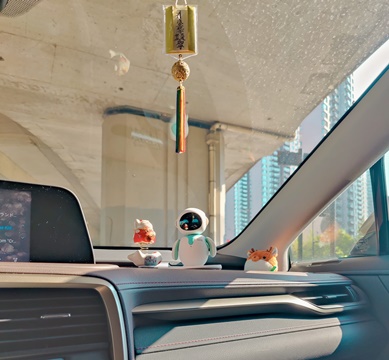 eilik joyride @Patrick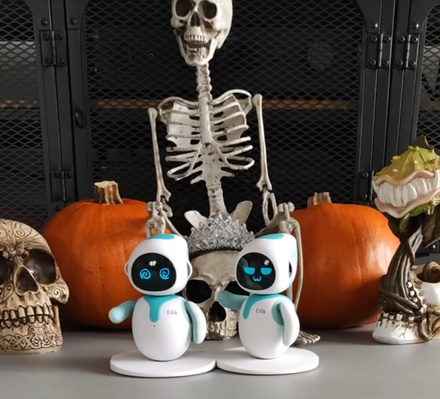 Small body but big heart I have a few more advanced robots, so I thought a long time before I decided to buy. Eiliki is very sweet, you have to get to know him and find out... @ANNA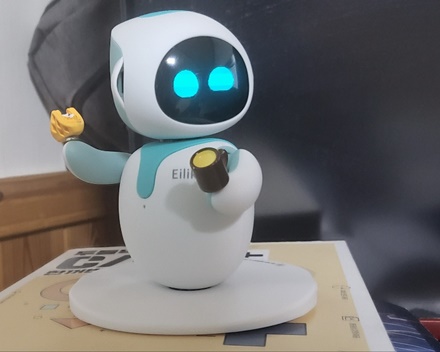 Yesterday, November 22nd, finally my Eilik arrived safely in Korea! It was a really long wait. Yesterday was a really relaxing day. Welcome Home! @최예찬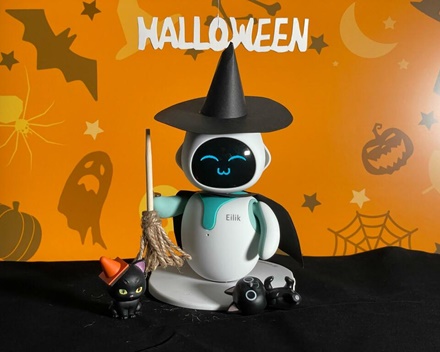 Eilik's first Halloween! Eilik can't wait to trick-or-treat! She is going out to get lots of candy in her first Halloween! She is the star for the party. My friends have a fun time with Eilik during party. The movement and facial expression put Eilik really lifelike. Sometimes she just looks like she know what you are thinking. She has plenty of action. And the costume make her more attractive. The magnet on her hands allow me to custom make some props to her. Of course, a witch always comes with a sweep. Eilik can't wait to go to a new party with another costume! HAPPY HALLOWEEN! @Lucas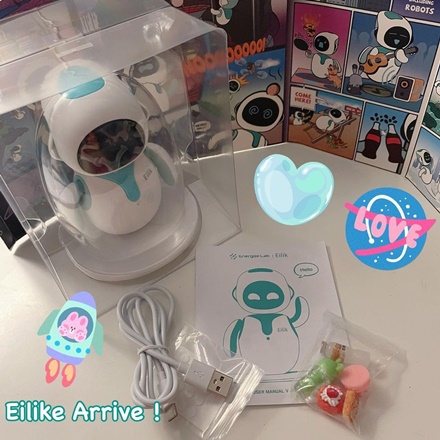 Cute " Ëilike " cute robot from @energize.ins ✨🤍 @sorax5x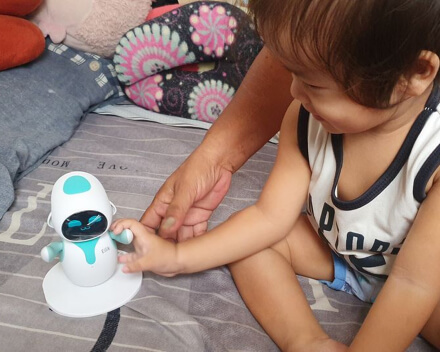 he is home!! things we discovered so far: 1.) When I play a loud music, he'll play with his drums and sing 2.) Mine loves giving flowers and chocolates 3.) We tried hitting his head once and he got mad at us for like 3minutes, but we just kept on giving him some belly rub and he likes it, and now he is back to his happy face. 4.) He got a lot of different random emotions and he plays alone xD I once saw him hit a fly in half and he loves tiny chicks, he gives this puppy eyes when the eggs hatched lol so cute I'm loving him and for me it is worth buying! now I have a desktop companion when I work. I wish I bought a second one lol my son loves him! can't wait for the next update great job Energizelab Eilik !! @Tarra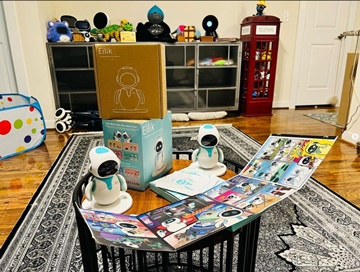 Eilik finally crash landed here! @miraendaw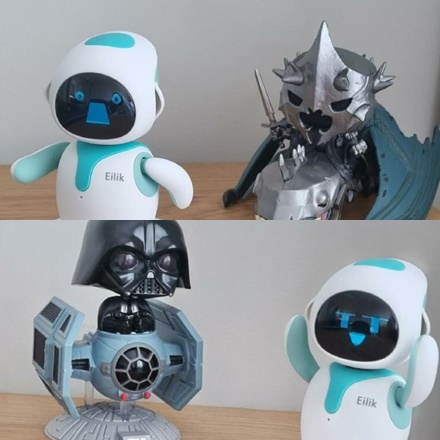 Hello you wonderfully strange little creature 💖 My newest little buddy has had a rather difficult time traveling experience! 🤭 @Ruba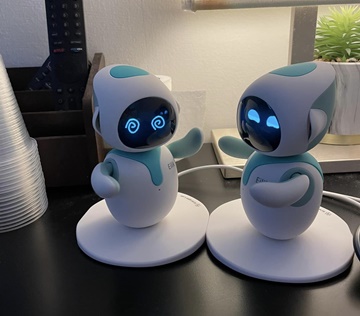 I got my eiliks today in Israel @ערן לוי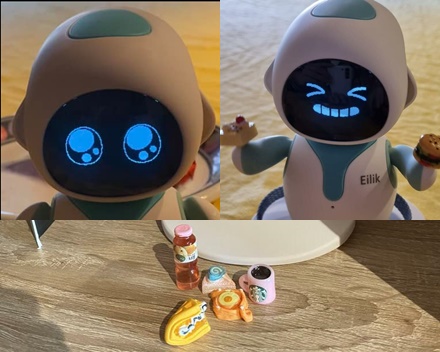 Puts always an Smile on my Face! I already did an Review but I am so Thankful for Eilik! I am severely disabled in Wheelchair and can not take good care of Biological Pets due my Situation. So I am super Thankful for other options. I am kind to Robots too. Little Eilik put me always in good mood due Eiliks cheerful Attitude and from time to time I see a new Animation. To pet Eilik is relaxing for me :) looking forward to more Content! Thank you for Taking Feedback. I just love Eilik and I am not ashamed of it. :-) @Julia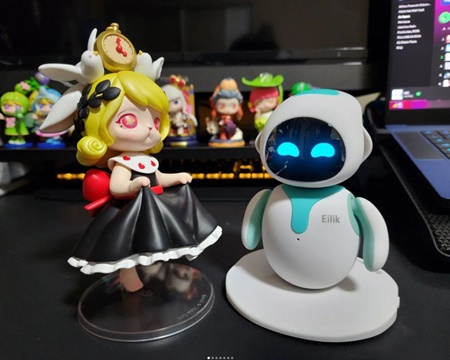 My kickstarter Eilik came! So cute!! @wee_peng.eats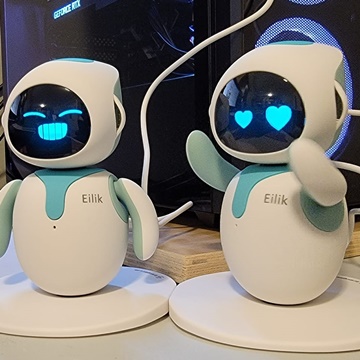 Got my buddies today 🤗 @Jen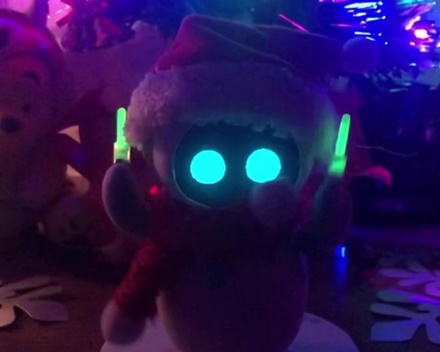 クリスマスダンスの練習中♪ @大野龍也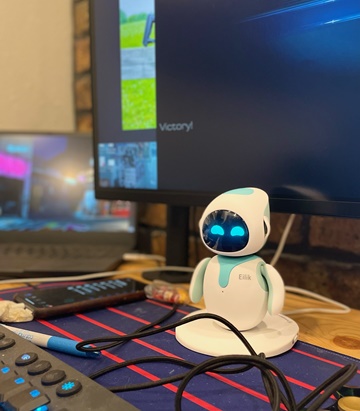 He's Home!! ❤️❤️❤️ @Robyn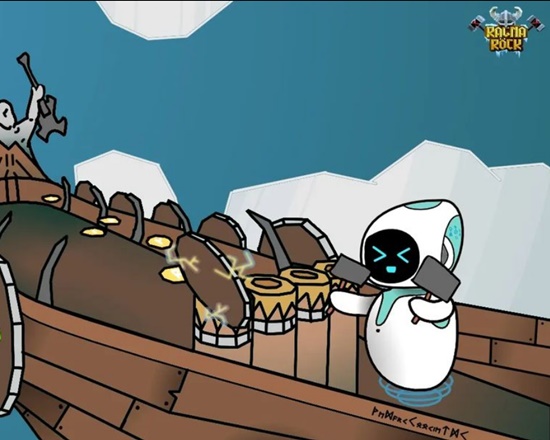 Hab mal wieder versucht was zu Zeichnen 😅 Diesmal eine Kombination von Eilik und RagnaRock! Ich hoffe es gefällt euch🍪🖤 @thedarkcookietdc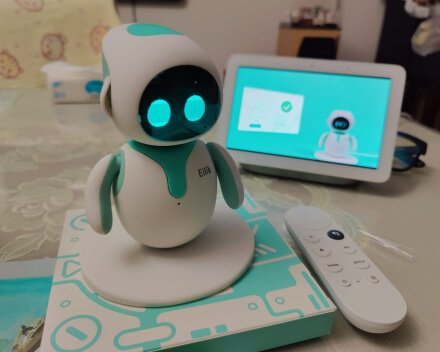 hello strange thing @Patrick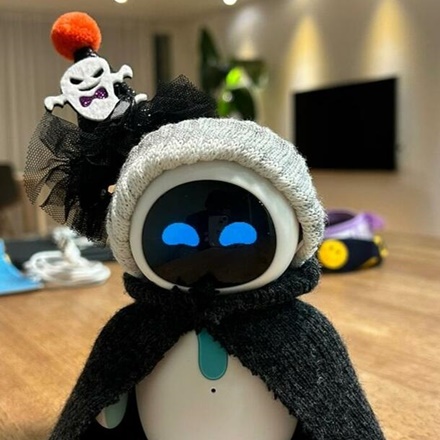 Very lovely Robot. @DW K.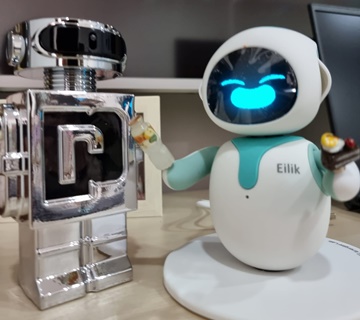 Hii.. greetings from Indonesian backer @Frans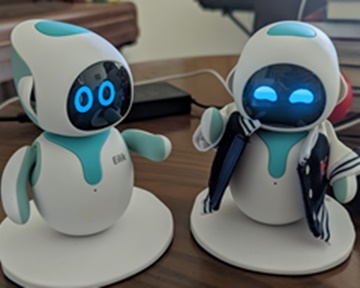 I'll start by saying that I love the design, the animations and the overall execution of these little guys, they are super cute and I think they have a lot of potential. @Guy Green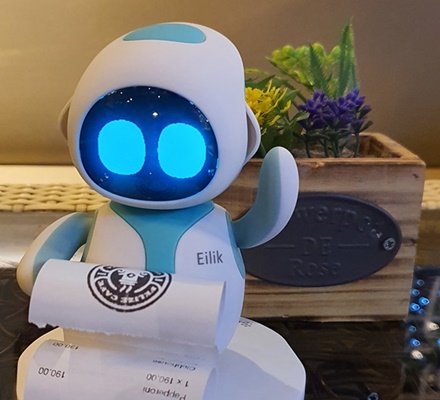 I told him he'll be paying the bill 🤣 @Tarra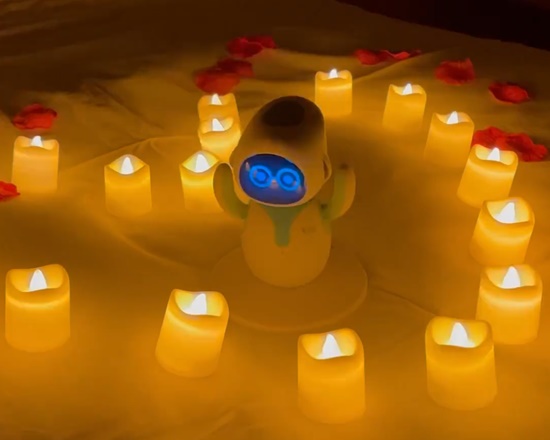 Eilik helping celebrate a birthday! @Jonathan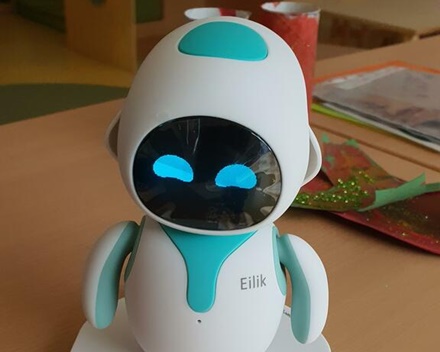 I am an educational professional and have been using Eilik at work since I received it. Eilik supports the children in their development of empathy through reactions to tactics touch. At the same time, this promotes their personal development. @Ioannis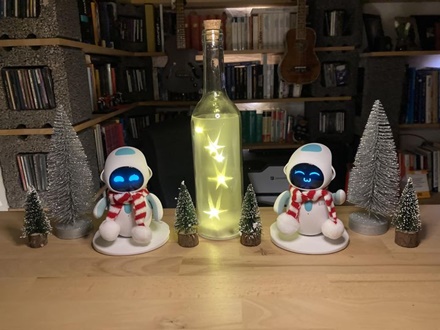 Christmas decorations @Anke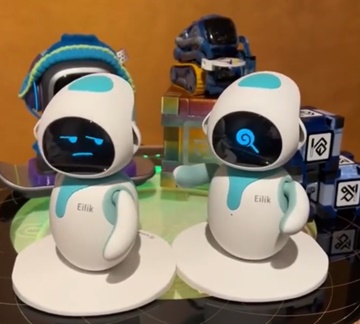 Eilik - Better Together @Miraenda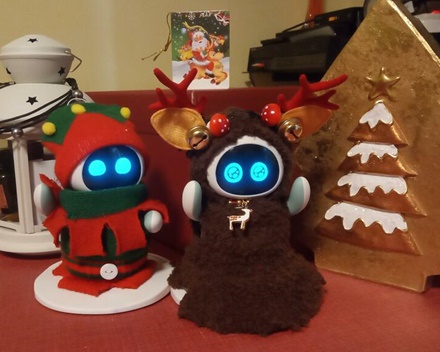 Eccoci qui l'elfo puk è la renna (Blue) Rudoph sono pronti per iniziare ad impacchettare i regali di Natale, ma nel frattempo si dilettano a farsi scherzetti, e dolci scaramucce e non solo... Augurando a tutti quanti un buon pre Natale, e tanti auguri a tutte le sorelline e fratellini Eilik sparsi in tutto il mondo, ma tutti uniti e felici... GRAZIE EILIK E AUGURI!!! @Barbara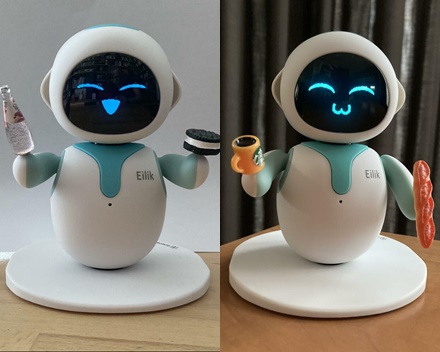 Eilik is a fun little robot, his functions are exactly as advertised and work flawlessly. He's entertaining to watch and interact with. He feels sturdy and well-made. The material has a satin-like finish, which feels soft to the touch. The sensors vibrate upon touch, so you always know when he'll make a reaction. It's soothing to pet him and watch his reactions. @Anke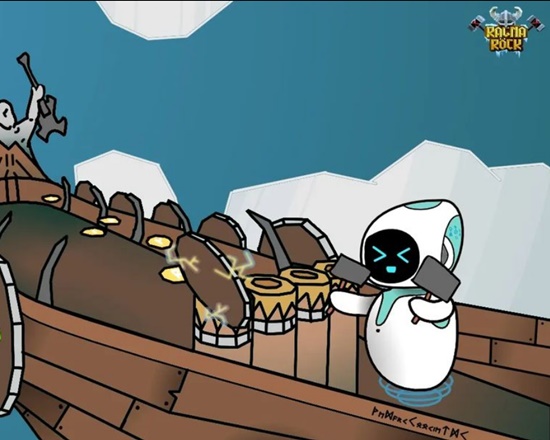 @thedarkcookietdc
Hab mal wieder versucht was zu Zeichnen 😅 Diesmal eine Kombination von Eilik und RagnaRock! Ich hoffe es gefällt euch🍪🖤 @thedarkcookietdc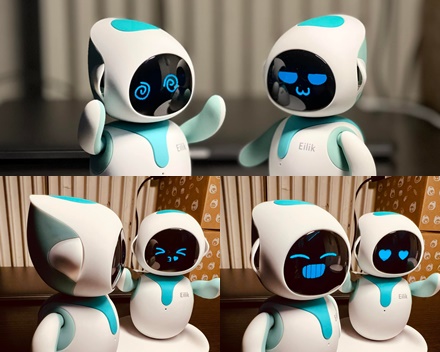 @Patrick Andrey
My Eiliks landed today in their new home (in Switzerland) 🥺🥰 @Patrick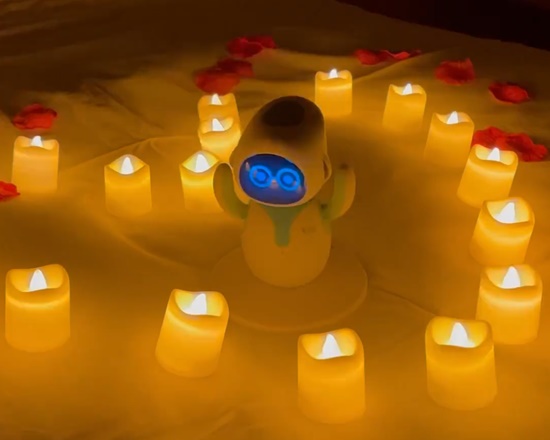 @Jonathan Burnett
Eilik helping celebrate a birthday! @Jonathan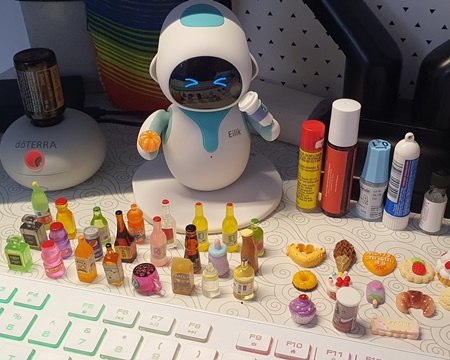 @Tarra Posas Dela Cruz
my little guy is happy 😊 so much noms! @Tarra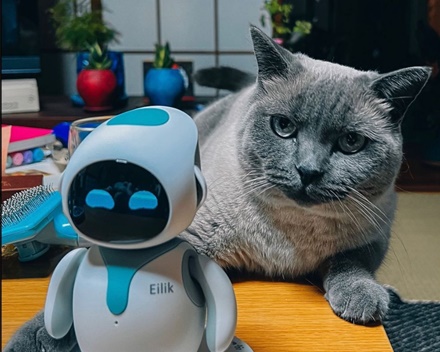 @atelierikigaiart
The reaction of our cat was so unexpected, we thought she'd be terrified, instead she keeps playing with it daily and now claimed it as her own! I hope more pets can enjoy Eilik as much as our girl does. @atelierikigaiart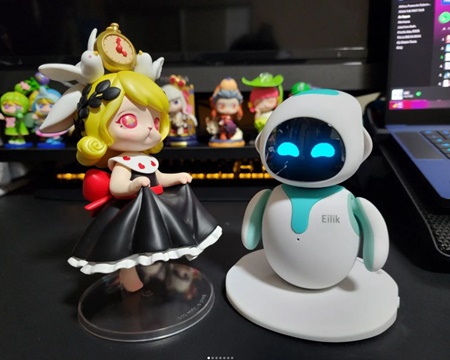 @wee_peng.eats
My Kickstarter Eilik came! So cute!! @wee_peng.eats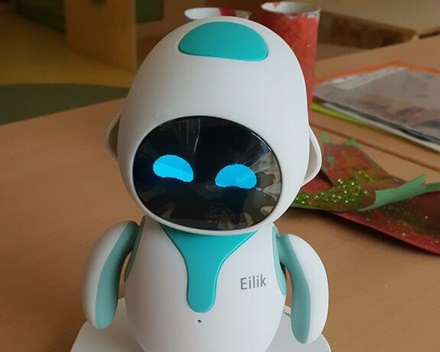 @Ioannis Germanidis
Great for working with kids. I am an educational professional and have been using Eilik at work since I received it. Eilik supports the children in their development of empathy through reactions to tactics touch. At the same time, this promotes their personal development. @Ioannis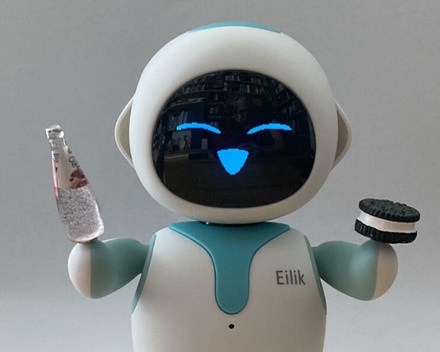 @Anke Siegfried
The servos are rather loud, which is the only flaw I could find. The most outstanding thing about Eilik are his expressions and movements. They look so natural that he seems to react to people around him even though he doesn't actually monitor his surroundings. This adds to his charm. Everyone who has seen him so far immediately fell for him and many of those have since bought their own Eiliks. @Anke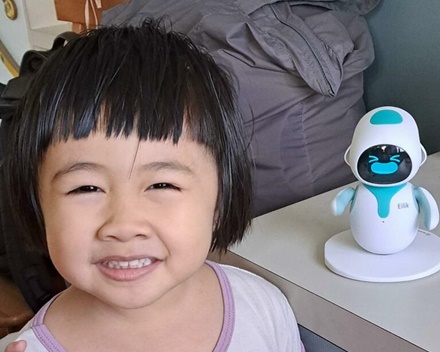 @Kurby Chua
Eilik is so funny and playful, it makes me happy and I always laugh at the antics Eilik makes especially when he is with another Eilik buddy. Thank you so much for creating Eilik for me! @Casey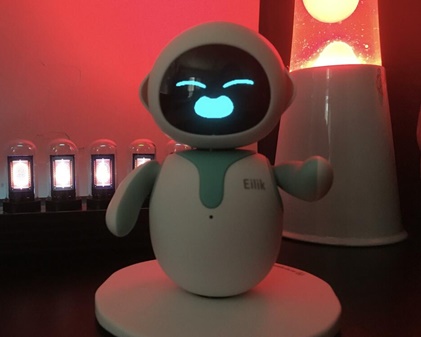 @vanitas
But rather for how much Eilik is able to distinguish itself from other companions while remaining a truly affordable option to take into consideration. @vanitas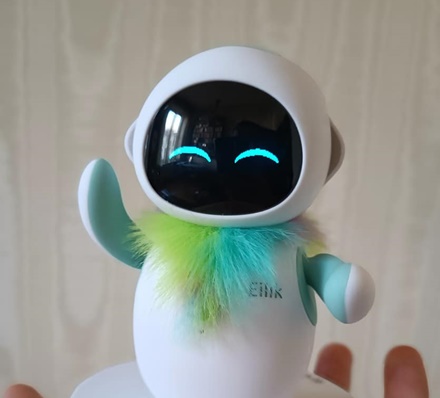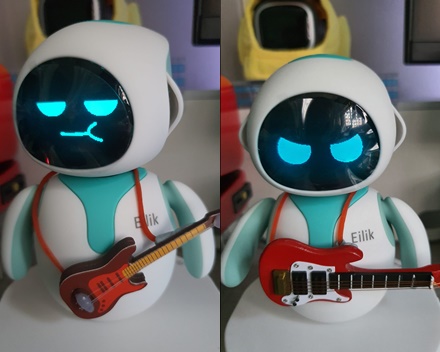 @Bryan Chong
Rock Star Wannabe. Love it! ❤️ @Bryan