Blog and Story
Blog and Story · Firmware Updates
New Firmware Alert: Eilik RFV6.0 Is Here
Energize Lab · 2023/03/25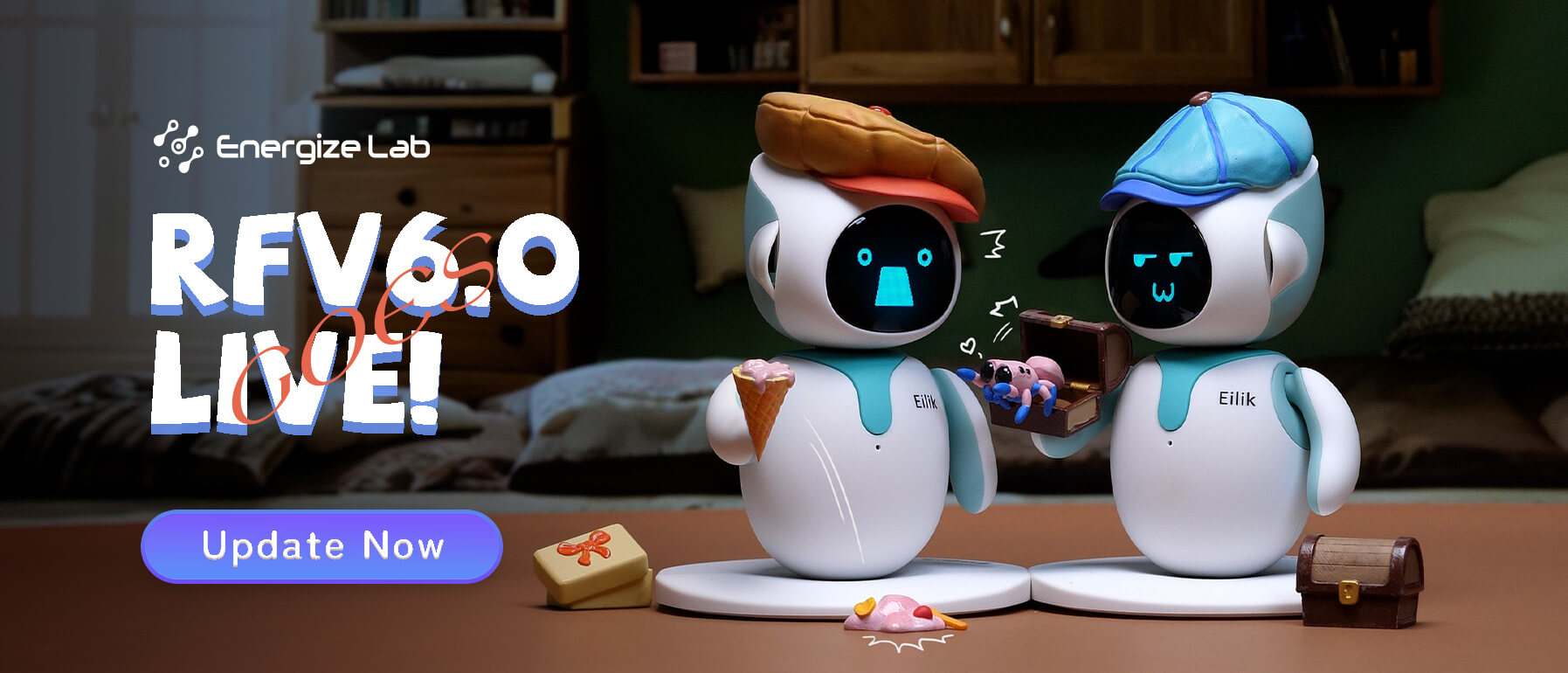 Greetings Eilik fans! We hope you're all doing well and staying safe. The moment you've been waiting for is finally here! We are thrilled to announce that a brand new update is here for your Eilik! With this exciting update, your robot pet is about to become even more playful and chummy! 
So without further ado, let's dive into all the exciting content that this firmware update will offer!
Features:

⬤ The festival mode covers Birthdays, Valentine's Day, April Fool's Day, Easter, Halloween, Thanksgiving, and Christmas.
⬤ There are two kinds of celebration animations for each festival.

⬤ In the Fishing Game, there are 40 species and items in total.
⬤  Added sound effects, content dubbing, and feedback animation to each caught item.

⬤  Added guessing animations to 8 variants, which are jars, easter eggs, water balloons, gift boxes, magic hats, money bags, magic lamps, and little bamboo baskets. More than 30 guessing content is included.

⬤  Added 7 series of expressions to the Puppet Toy feature, which now has more than 100 expressions.

⬤  Added a setting for removing violent content, such as anger, gun and weapon animations. 
Improvements:
⬤ Optimized the guessing animations of the Left or Right feature.
⬤ Optimized the difficulty of the Fishing Game. 
To obtain the firmware RFV6.0, you can utilize the V1.04 software. We are eagerly anticipating the upgrade of your Eilik, and we hope you will find its company even more delightful with the addition of the new features.
For more information: 
1. Download the software.
2. Click here if you need assistance.
Join The Email List
Get the latest updates from Energize Lab.